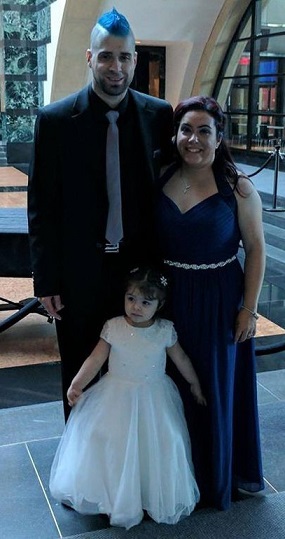 Meet Melanie. She's a loving and dedicated mother to a beautiful little girl. She also recently made the transition from stay-at-home mom to full time working mom. Amidst juggling work and family life, Melanie also writes a fantastic blog called
Momma Braga
, in which she documents her journey in life and parenthood. Through Momma Braga she has shared moving and emotional stories that touch her readers. She also shines a spotlight on other mothers and fathers, as well as shares honest reviews on children's books and family-friendly products.
Melanie was the first fellow mommy blogger friend that I made. One of the reasons I was drawn to her blog is because her writing is so sincere. I discovered her blog early in my blogging days and immediately looked to Momma Braga as a source of inspiration for
Mama @ Heart. She has been kind enough to provide her honest opinion when I've asked her about some of my ideas and has been a wonderful support to my blog!
I asked Melanie to provide some of her insights on motherhood. This is what she had to share:
How has motherhood changed you?
Motherhood has allowed me to really get out of my shell and to not be afraid of being myself. It has given me the opportunity to find my voice and not be afraid to use it when I need to. Motherhood has allowed me to experience what it is like to care, love, support and sacrifice for an extension of yourself. For the first time in my life, I know and feel what my parents went through to raise me which has given me a deeper appreciation for all that they did and for the life they gave me. Motherhood has given me the opportunity to do the same for my daughter and for that it has made me a better person.
What do you love most about being a mother?
What I love the most about being a mother is having the opportunity to be a mother. The reason I say this is because I did not think I would become a mother. My husband and I tried for a year and a half until I finally got pregnant but then my heart shattered when I miscarried in the first trimester. It took some time to heal from that devastating loss before we decided to try again. I was then diagnosed with Polycystic Ovary Syndrome (PCOS) and I thought my hopes to conceive would be diminished. However, I never lost faith and knew if it was meant to be it would be. It appears that as soon as I didn't think about getting pregnant, it finally happened. I was fortunate to conceive a baby girl two years after my miscarriage. So the road to become a mother was a difficult one as I am sure it can be the case to many women and this is why I am thankful for being a mother.
I have been a mother for two and half years now and I love the unconditional love that my daughter gives me each and every day. I love the hugs, kisses and the "I Love You" I get from her, which makes my heart melt each time. I couldn't see myself not being a mother as I do love being one.
What do you find most challenging about motherhood?
When I think of challenges there are two that jump right at me without hesitation: sleepless nights and tantrums.
I have surpassed the newborn stages as I have a toddler now; however, the sleepless nights have not gone away completely. It has always been a struggle in our household and one that I have learned to adjust to. Sometimes the sleepless nights are challenging especially since I have transitioned from a stay-at-home mom to a working mom but slowly we are learning to adapt.
Tantrums are not fun and it really tests your patience as a parent (well it does for me anyway). Finding out what works to help your child through the tantrum stage is always a challenge but what fun is life if there isn't any challenges to overcome!
Melanie shares her words of wisdom and advice:
Here are some Momma Braga pieces of advice:
· Do what you feel is best for your child. You will be getting a lot of advice and sometimes unwelcoming, my suggestion is to just nod and smile (even if it seems hard to do). Remember that no one could ever really write a book about your particular child but you sure can.
· If you need help as a new parent, don't be afraid to ask for it. I wish I asked for more help when I needed it. It does take a village to raise a person.
· Trust your instincts always.
· If you ever feel mommy guilt, don't! Just remind yourself that you are doing the hardest job in the world and you are doing the very best you can.